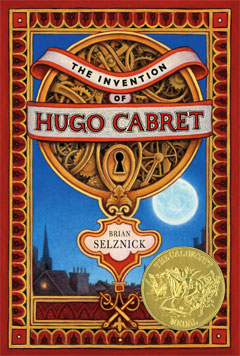 The wonderfully imaginative story
Hugo Cabret
is going to be released as a movie this fall ! I can't wait !
Have you read it yet ?
"
Set in 1930s Paris, an orphan who lives in the walls of a train station is wrapped up in a mystery involving his late father and an automaton."
(IMDb)
au.tom.a.ton (noun) a moving mechanical device made in imitation of a human being
If you haven't read the book yet,

get reading

,

because it is amazing!
Author and illustrator, Brian Selznick used highl
y detailed pencil sketches in all sorts of sizes to help tell the story. He combined pictures and words in very unusual ways to create a story like none other. I know you will love it.
Get the book !
We have two copies in the library. By the way, did you know it has 526 pages, and that 300 pages are pictures ? Have some fun with the
Hugo Cabret website
. Be sure to take a look at his art studio and his book list.
I wonder if you will like the book or the movie better ? I usually like the book better because I get to create my own vision of the story in my imagination. But with a book like
Hugo Cabret
who can predict how the director will capture this story on film.
To make things even better, Selznick's new book
Wonderstruck
will be in bookstores September 13. Yes, we will have two copies in the school library as soon as I can get them catalogued. Who will be first to read it ?
Happy reading!
Mrs. Dumas